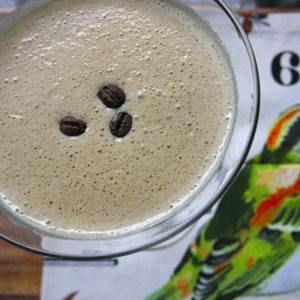 This cocktail is a take on the late Dick Bradsell's 1980's classic Vodka Espresso or what is now known as the Espresso Martini. Of course, Anthony incorporated a drastic twist.
Photo: Tracy Benjamin/flickr, creative commons

Combine ingredients in a shaker and fill with ice. Shake until chilled and foamy; strain into chilled glass and garnish with coffee beans or grated chocolate.
To make homemade coffee syrup, use a 1:1 sugar to warm coffee formula.  Stir until sugar dissolves and let sit until the syrup comes to room temp. Refrigerate until you're ready to use.