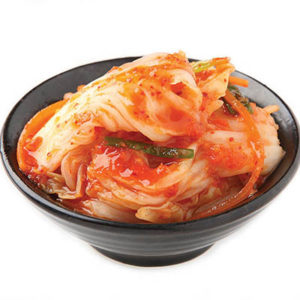 Kimchi (sometimes spelled kimchee) looms large in Korea's foodie universe, playing the role that sauerkraut does in Germany, pickles do in Eastern Europe, and encurdito (vinegar-cured vegetables) does in Latin America. That is to say, a sour-spicy condiment loaded with soulful fermented flavors that go great with Asian grilled meats.
• ON-DEMAND: Listen to Faith and Steven talk about this recipe as well as Steven's secret to great barbecue. •
Koreans make literally hundreds of different kinds of kimchi, ranging from the familiar napa cabbage version to exotic fermented seafood kimchis, each with its own unique constellation of flavors. Like all fermented vegetables, it is alive and changing—crunchy and tart when fresh, and acquiring deep funky flavors as it ages. Sure, you can buy kimchi at Asian markets and in the produce section of many supermarkets, but it's easy—and satisfying—to make at home. You'll need one special ingredient—gochugaru (Korean chile flakes), which you can purchase at a Korean market or online from Amazon. For a vegetarian version, substitute miso for the fish sauce. Here's how my assistant, Nancy Loseke—a Korean food fanatic—makes it.
Serve kimchi with bul kogi (Korean grilled rib eye) or kalbi kui (Korean grilled short ribs). Pile it with grilled beef or pork on tortillas to make Korean-style tacos. Serve it with the Korean Pulled Pork. It goes equally well with Western-style slow-smoked proteins, such as pork shoulder, brisket, and pork or lamb belly.
— Steven Raichlen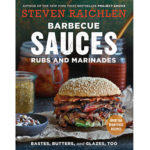 Excerpted from Barbecue Sauces, Rubs, and Marinades—Bastes, Butters & Glazes, Too by Steven Raichlen (Workman Publishing). Copyright © 2017. Photographs by Matthew Benson.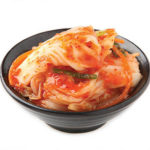 You'll need a sterilized 1-quart canning jar, a fermentation jar, or a stoneware crock to make this kimchi recipe; food-safe gloves are optional.
| | | |
| --- | --- | --- |
| | | You'll need a sterilized 1-quart canning jar, a fermentation jar, or a stoneware crock to make this kimchi recipe; food-safe gloves are optional. |
Remove and discard any blemished leaves from the napa cabbage. Cut the cabbage lengthwise in quarters and remove the core. Cut crosswise into 1-inch-wide slices and place in a large bowl. Add the carrots, cucumbers, and bell pepper.

Pour the 1/4 cup salt over the vegetables and massage with your hands until the cabbage softens slightly. You may want to wear gloves. Pour 3 cups spring water (tap water can contain chemicals like chlorine that interfere with the fermenting process) over the vegetables and let sit at room temperature for 3 hours, stirring occasionally. Place a resealable plastic bag filled with water on top to keep the vegetables submerged in the brine.

Drain the vegetables in a colander. Rinse and drain again. Return the vegetables to the bowl. Stir in the garlic, scallions, and ginger.

Make the chile paste: In a small bowl, combine the gochugaru, remaining 1 tablespoon salt, fish sauce, and 1/4 cup spring water and whisk to mix. Pour over the vegetable mixture. With gloved hands, gently massage the mixture until the chile paste coats the vegetables. Pack tightly into the canning jar leaving 1 inch of headroom. Seal the jar.

Leave the jar on the countertop for 24 hours, occasionally turning it upside down, then right side up again to distribute the juices. The vegetables will "melt" as they ferment; you'll notice the liquids bubbling slightly.

Transfer the kimchi to the refrigerator and ferment for at least 1 week. Loosen, then retighten the lid each day to release the gases built up through lacto-fermentation. The kimchi will be ready after 1 week, but you can continue to ferment it for up to a month in the refrigerator—the longer, the tarter and richer the flavor. Refrigerated, it will keep for several months.