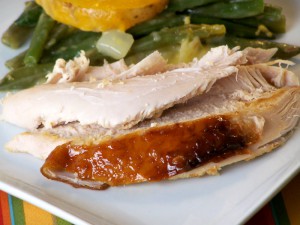 From Faith: I was excited; I thought I'd created something new, a way to give turkey a boost of flavor, yet preserving its… Thanksgivingness. But it turns out others have thought about wrapping a turkey with thin slices of Italian prosciutto. After searching what's out there, I think we've found the best of the best, and you can make this recipe for a crowd by roasting your turkey in the oven, or by cooking a breast in a slow cooker for a small gathering. (See below.)
I asked senior contributor Chris Prosperi to adapt the slow cooker recipe here for oven roasting. He said he'd simply place the prosciutto slices under the skin after you've smeared on the seasoned butter. (But if you want the prosciutto to get extra crispy, Chris said lay the overlapping slices on top of the turkey breast skin and cover the bird with a piece of aluminum foil, removing it about an hour before the turkey's done.) Roast the turkey as you normally would.
I'm especially fond of this slow cooker version, great for any weekend party. It's from Amanda Hesser's Food52, though I think she got it from another blogger, Burnt Offerings. Amanda tests everything well, and certainly knows what she's doing as former food editor/writer at The New York Times Magazine, and author of many cookbooks.

Place a layer of onion slices in the bottom of a 5–6 quart slow cooker.

Layer the apple, sage, and bay leaves on top of the onions, and pour the apple cider over all.

Mix together the dry spices, salt, and pepper and incorporate the butter, making a spice paste.

Rinse the turkey breast and pat dry. Using your fingers, separate the skin from the meat, without tearing the skin, and smear the seasoned butter under the skin all over the breast.

Lay the prosciutto slices across the turkey breast, overlapping the slices.

Place the turkey breast in the crock pot, breast side up, and cook it on low (8–10 hours), or on high (4–5 hours), until an instant read thermometer in the thickest part of the breast reads 170° F.

Remove the turkey breast from the crock pot to a plate or platter and tent with foil to rest for at least 15 minutes while you make the gravy.

Pour the contents of the crock pot into a saucepan and remove the sage and bay leaves. Bring to a simmer and reduce the volume by a third.

Once the sauce has reduced, use an immersion blender and blend the onion and apple into the gravy. It should thicken nicely. You can also pour it into a blender, just be careful when blending hot liquid. Add the teaspoon of cider vinegar, taste, and adjust for seasoning. It might need some additional salt—you decide.