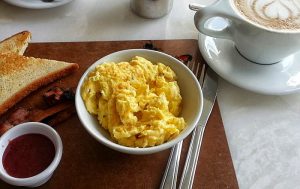 Eggs are so often the answer in our house. It's a busy weeknight, I never made it to the grocery store, and I have to get dinner on the table pronto. What's it gonna be? Eggs. Or, it's a rainy Sunday morning, we slept late, and now we want to eat a satisfying breakfast while lingering in our jammies for longer than I'd care to admit. Again, eggs. They're cheap, low in calories, easy to cook, and filled with a lot of nutrients that are otherwise difficult to find: the full spectrum of B vitamins, omega 3s, zinc, copper, and more. But they have to be done right, because bad eggs are about as big a bummer on a plate as I can think of. Perfect scrambled eggs, by my definition, are meltingly soft and fluffy, almost like a cloud. To get them that way, I use baking soda, which reacts with the eggs' natural acidity and creates pillowy air pockets.
— Suzy Scherr
• ON-DEMAND: Listen to Faith and Suzy talk about this recipe as well as many other clever uses for baking soda you may have never thought of. •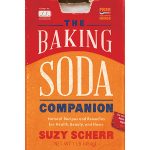 Excerpted from The Baking Soda Companion © 2018 Suzy Scherr. Published by The Countryman Press, a division of W.W. Norton & Company.
Photo: Pixabay.com

In a medium bowl, whisk the eggs and baking soda with a pinch of salt and a grind or two of black pepper until light and frothy.

Melt the butter in a 10- or 12- inch nonstick skillet over medium- low heat.

Add the beaten eggs to the pan and stir slowly with a wooden spoon or spatula, bringing in all the beaten egg from the edges of the pan to the center, forming large curds.

Your eggs are ready when they look just a teensy bit undercooked and still slightly runny— they'll continue to cook slightly even after you've removed them from the heat.