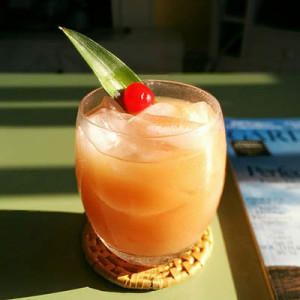 When my husband, Matt, and I are on our sailboat, we visit Nantucket, hang out with Faith at her vacation home at Orient Point, on the North Fork of Long Island, and gorgeous Shelter Island, just off the North Fork. Our tradition is to tie-up and jump in our dingy, aiming for land and cocktails at our favorite spots, before dinner. When it's been a particularly hard sail, we indulge in the glories of The Pain Killer, a potent and delicious concoction that functions as a mood bath, provided we're not driving on actual roads. (Dingy and rowing only!)
—Alex Province
In a shaker filled with ice, add rum, pineapple juice, orange juice, and cream of coconut; shake furiously until icy cold and frothy.

Pour into a highball glass, and carefully drizzle in the Rose's Grenadine (it should sink to the bottom).

Garnish with grated nutmeg and a cherry.

Bonus-serve with a straw that has been filled with rum... but be careful!