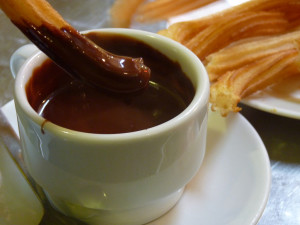 What's better than churros–those long, ridged tubes of perfectly fried dough, covered in sugar and cinnamon? The decadent, slightly spicy, aromatic chocolate sauce you dip them in! Making churros at home is a little more work, mostly in the form of greasy cleanup, than I'm willing to do so I prefer to buy them from my favorite neighborhood Mexican restaurant, El Nuevo Sarape at 931 Broad Street in Hartford, or a taco truck; I hear there is even a churro cart on Long Wharf in New Haven. However, making the most perfect chocolate dipping sauce is super easy!
—Alex Province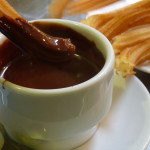 Heat cream, sugar, chili, vanilla, orange zest, and cinnamon stick in a heavy bottomed sauce pan and bring to a gentle simmer. Allow ingredients to steep over low heat for a few minutes while being sure to get all the vanilla seeds scraped out from the pod.

Strain and place the cream back over low heat.

Add a pinch of salt and the chopped chocolate. With a wooden spoon, gently stir the until perfectly glossy and smooth.

Serve piping hot in small cups or dipping bowls alongside churros.