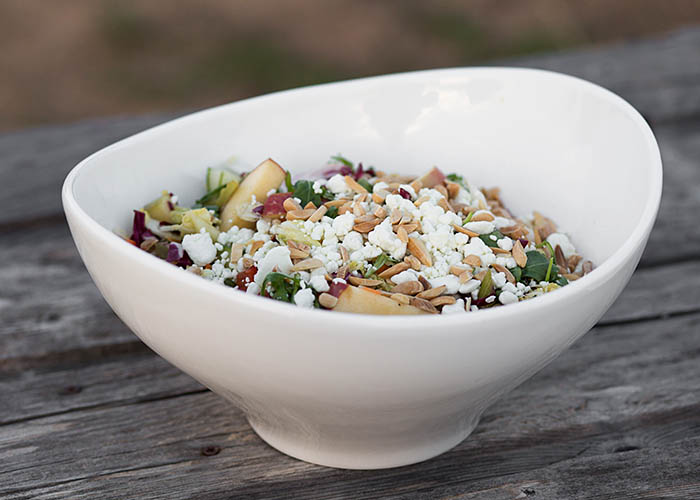 When Paul Newman and I agreed to open Dressing Room, one of his first requests was that there always be a really good chopped salad on the menu. He loved an array of flavors and textures in each bite, and he could go on at length about what a pain it was to eat any salad that was not chopped!
In the spring we rely on raw peapods and asparagus, roasted nuts for crunch, and some kind of fruit such as strawberries and blueberries for the salad. We move to peaches in the summer and apples in the fall, looking for sweetness from both, and include some kind of great local cheese.
— Chef Michel Nischan, CEO Wholesome Wave
• ON-DEMAND: Listen to Faith and the gang (including Michel Nischan) describe this salad and how Michel and Paul Newman came up with it. •
Recipe courtesy of Michel Nischan, photo by Joy Jacobs (courtesy of Newman's Own).

Bring the vinegar to a simmer in a saucepan over medium heat. Add the celery and carrots. Remove the pan from the heat. Set aside to cool.

When the vinegar is cool, add the bell peppers. Cover and refrigerate until cold.

Strain the chilled vegetables through a sieve. Reserve the vegetables and save the vinegar for another use.

Mix together the apple, cucumber, treviso, arugula, and cabbage in a large bowl. Add dressing and toss well. Season to taste with salt and pepper. Add the goat cheese and almonds to the bowl and toss to mix. Divide among 6 small bowls or plates.