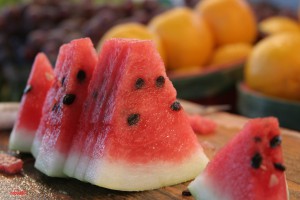 Gale Gand's watermelon gazpacho is perfect for a summer lunch, or an appetizer served at a party. This colorful, refreshing, cold soup has a wonderful texture. Don't be afraid to substitute and experiment with your favorite fruits and veggies.

Place the watermelon and pineapple in a blender and pulse to puree. Stir in the salt, pepper, and tarragon, then transfer the gazpacho to a pitcher or a bowl with a pour spout. Cover the gazpacho and keep it chilled until ready to serve. Chill the prepared fruit and vegetables.

To serve, pour the gazpacho into clear bowls or glasses with handles. Garnish each with a few cubes of each vegetable and fruit, or set the cups of soup on a buffet with the vegetables and fruit in small bowls alongside, and let people garnish their own servings.
The gazpacho will keep in an airtight container in the refrigerator for up to 3 days. The chopped fruits and vegetables are best prepared the day you are serving the gazpacho, but they will also keep in airtight containers in the refrigerator for up to 3 days.