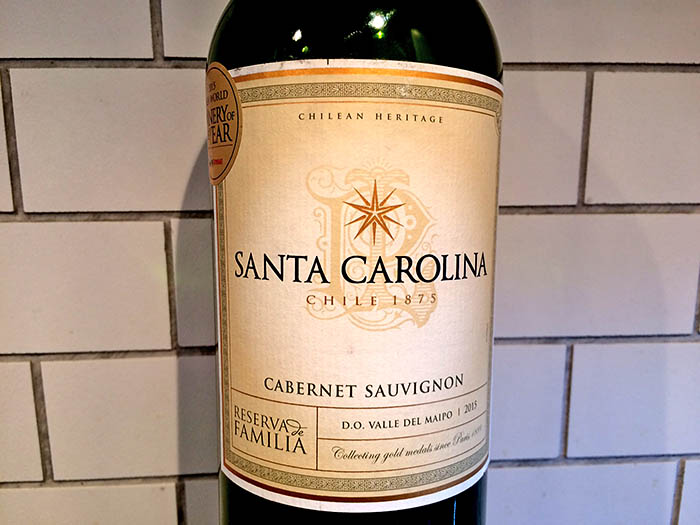 So many great things are created from mistakes, and that includes the beloved wine grape Cabernet Sauvignon. Reportedly, in the 1600's, a winemaker in Southern France mistakenly crossed a Sauvignon Blanc (white) grape with a red Cabernet Franc grape. Thus, Cabernet Sauvignon was born and is now grown and admired in almost every wine region in the world for its body and beauty. Our holiday wine pick: an $18-$20 Cabernet Sauvignon Reserva de Familia (2015) is from Chile, created by the award-winning Santa Carolina Vineyard.
• ON-DEMAND: Listen to Faith and the gang describe this wine on an episode of The Faith Middleton Food Schmooze®. •
The wines produced by this Food Schmooze® favorite vineyard are handpicked and hand harvested. As a Reserva de Familia, this Cabernet Sauvignon spends 15 months in new, French oak, making it juicy yet round with just enough backbone to make it exceptionally food-friendly. You can drink this with every course, from appetizers to entrees and even chocolate desserts. The wine itself has dark chocolate notes, as well as blackberry and boysenberry, too. You should detect spice notes and find the oak is blended in beautifully.
Because of its go-with-everything character and outstanding flavor, this cab makes for a host gift you can feel particularly proud of.
— Faith Middleton
Call ahead to your wine store first and tell them the distributor is Brescome Barton. If they don't have it on the shelf, they can order it and should have it for you within 24-48 hours.