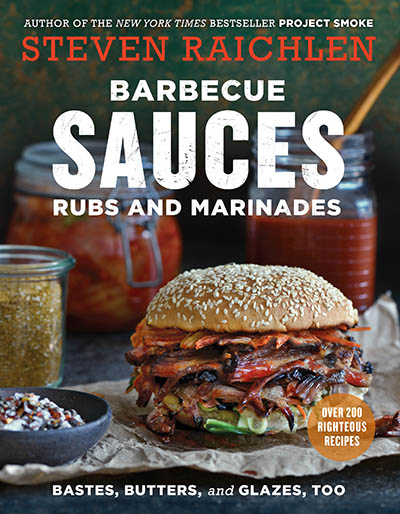 Steven Raichlen is among America's Kings of Barbecue, for sure. In his latest book, Barbecue Sauces, Rubs, and Marinades, Raichlen shares the secret to great barbecue—and all grilling really. The key is layering flavors (see that book title, and you know exactly where this is going).
Even if you're a seasoned griller, we're betting you haven't been putting a rub on your hamburgers, or slathering said burgers with a smoky bacon-bourbon barbecue sauce. The Barbecue Burger is a thing. Yes, that was our pre-show lunch. And because it was so good, it was also our post-work dinner.
ON-DEMAND: Listen to Faith and Steven discuss the recipes in this book.
Aside from upping your burger game, you'll find reasons to invite some friends over, too. The Righteous Ribs serve 6 to 8 (and include Steven's "lacquering" technique) and the Korean Pulled Pork serves 8 to 10. It takes two days to make, but really good barbecue isn't about speed. And layering all those flavors takes sweet time.
Since we're talking about the "accessories" of your proteins in this book, there's plenty you can make ahead during the week to make your weekend grilling the envy of the neighbors. Our suggestion: start with the burgers, then make them all summer long.