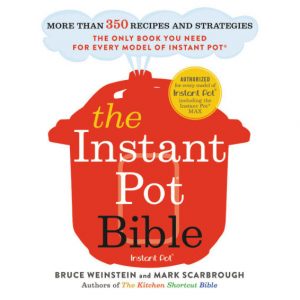 It's possible that we haven't been this excited about cooking with a new appliance since slow cookers promised we could set-it-and-forget-it. We've had our come-to-Jesus moment with the Instant Pot, and consider us converted. That conversion came about because of the cookbook, The Instant Pot Bible, by Connecticut authors Bruce Weinstein and Mark Scarbrough.
• Support Connecticut Public Radio by making a pledge of $6 a month or a gift of $72. The Instant Pot Bible is available on our pledge page and is our gift to you. Thank you! •
Because Instant Pots essentially cook foods using pressure, they cook fast and infuse ingredients with whatever tasty herbs, aromatics, or stocks, for example, you've thrown in the pot. But Instant Pots don't just cook with pressure, they sauté, too, making many dishes one-pot meals. You can even use your Instant Pot to make yogurt. After talking with Bruce and our own Chris Prosperi about the wonders of the Instant Pot, we're pretty much convinced it can do everything but cure disease. (Though, if you're using that pot to make vegetables so delicious, you find you're eating bushels and bushels of them. . .) We'll leave that to the medical professionals.
The Instant Pot can cure the stress of the dinner rush hour, we believe. Imagine. . .what usually takes an hour or more to cook is possible in minutes when cooked in an Instant Pot. And since it's a self-contained cooking vessel, multi-course holiday meals just got a little easier, too. You can still simmer a Sunday sauce for hours if you want, but with an Instant Pot, you can make (and enjoy!) the flavor of a long-cooked sauce in as little as eight minutes (plus, sautéing time).
It's a miracle! Well, it's science, actually, but we're still pretty grateful the food Bruce made for our pre-show lunch tasted heavenly. If you're one of the 5 billion+ people worldwide who cook using an Instant Pot, you'll love cooking your way through The Instant Pot Bible. Instructions, steps, and times are clear for every Instant Pot model. (Cue the clouds parting and angles singing).
Start Instant Potting!
Eggplant and Caper Pasta Sauce
Better Butter Chicken
Sous Vide Buttery Lobster Tails
Poached Salmon with Horseradish Sauce
Sauerbraten-Style Pot Roast
Classic Cheesecake