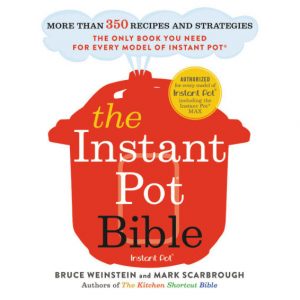 Cold poached salmon may be summer's best meal: a make-ahead that's ready for lunch on the deck or patio whenever the time's right. Notice that the salmon poaches here at LOW pressure to preserve the meat and keep it from overcooking.
Look for a salmon fillet without a thick fat end and a thin, belly flap end. (Have the fishmonger cut an even piece from the middle of the fillet.) Also, make sure the pin bones have been removed. Run your fingers lightly over the fillet — careful! — to feel for them. Use cleaned tweezers to pull them out of the fish. Or ask that fishmonger to do the deed for you. If the salmon has been previously frozen, make sure the meat is not splitting and cracking but is intact and solid. Finally, fattier salmon (such as Atlantic) poaches better than leaner salmon (such as sockeye).
Categories: SUPER EASY / QUICK RELEASE / CAN BE GLUTEN-FREE
NOTES:
• Because of the size of smaller salmon fillets, this recipe will not work well in a 3-quart cooker.
• If you don't want to use wine, use 1-1⁄2 quarts (6 cups) vegetable broth, but also add 1 teaspoon granulated white sugar to the sauce mixture.
— Bruce Weinstein and Mark Scarbrough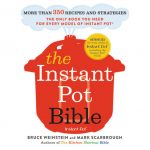 Excerpted from The Instant Pot Bible by Bruce Weinstein and Mark Scarbrough, © 2018 Bruce Weinstein and Mark Scarbrough. Published by Little, Brown and Company | Hachette Book Group. Photos by Eric Medsker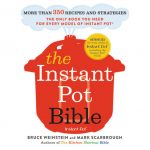 Mix the broth, wine, lemon, dill, peppercorns, and bay leaf in a 6- or 8-quart cooker. Set the salmon skin side down in the broth mixture. Lock the lid onto the pot.

Set the machine for PRESSURE COOK or MANUAL. Set the level for LOW. The valve must be Closed. Set the time for 4 minutes with the KEEP WARM setting off. If necessary, press START.

Use the quick-release method to bring the pot's pressure back to normal. Unlatch the lid and open the cooker. Remove the hot insert from the cooker and set aside at room temperature for 10 minutes, then set the insert (with the salmon inside) on a towel on a shelf in the refrigerator and cool for 1 hour.

Meanwhile, whisk the mayonnaise, sour cream, lemon juice, dill, horseradish, chives, and pepper in a small bowl until smooth. Cover and refrigerate until you're ready to serve.

After an hour, transfer the salmon from the insert to a platter. Discard the liquid and solids in the insert. Slice the fish and serve at once — or cover and refrigerate for up to 2 days, offering the horseradish sauce on the side.
Serving suggestions:
• Serve portions of the salmon on Boston lettuce leaves with sliced radishes, chopped tomato, and/or sprouts, all topped with the horseradish sauce.
• Make an easy salmon salad for sandwiches by chopping the poached salmon and mixing it right into the horseradish sauce.