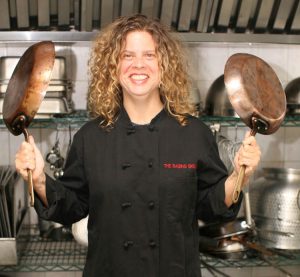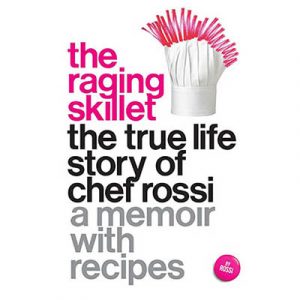 Hilariously entertaining and the most raucous—and honest—food memoir we've read in a long time, Chef Rossi's (One. Name. Only. Because she can) The Raging Skillet has been adapted for the stage by local playwright Jacques Lamarre. John Simpkins directs the play, which runs at TheaterWorks in Hartford, CT through August 27.
• ON-DEMAND: Listen to Faith's fun conversation with Chef Rossi. •
In her memoir, Rossi, who made a name for herself as New York's most unconventional caterer, describes what it was like growing up in an orthodox Jewish family in New Jersey. Members of her family somehow manage to be both characters you know from your own family and unlike anyone you've ever met. There are Seders in a camper, sneak-outs to meet boys with wine, an "incident" involving Rossi's moo moo-wearing mother and a girlfriend she considered a corrupting influence, and a purchase that changed everything in the Ross household: The Big M. The microwave.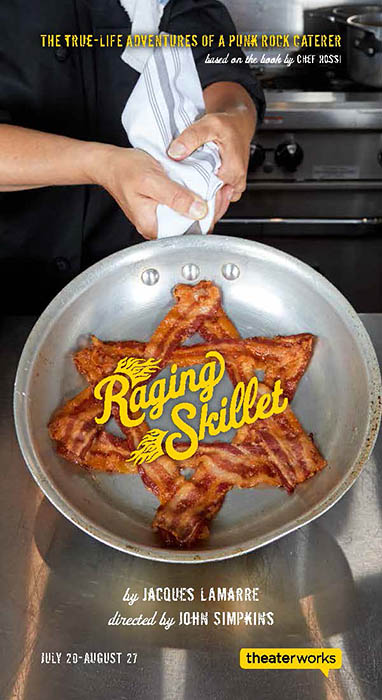 A blessing and a curse, if Rossi's mother hadn't gotten a microwave in 1977, there may have not been a memoir to write or a play to see! Meals that took days to cook, now took minutes, and the family forgot what a hot, home-cooked meal tasted like until a teenaged Rossi threw together the Pizza Bagels that prompted her father, a man who had previously only grunted, to speak actual words. Of course she became a cook.
Enough spoilers. You'll have to read the book and see the play to learn how Rossi elbows her way onto a boat and into bars and kitchens that don't want women cooking professionally (though, you know, barefoot at home is perfectly fine).
Sprinkled throughout the memoir are recipes that grow up right along with Rossi. Think: Snickers Potato Chip Casserole (still a hit), Super-Tacky Chinese-ish Fruit Cocktail Chicken, Butternut Squash Soup, Peace Stew. The best recipes from her young days survive and are even requested at events. Teenager or not, who wouldn't want Snickers, potato chips, and marshmallows smashed into squares?
They're serving the casserole to members of the audience, by the way. We have a feeling this show is going to sell out. Tickets available here.
— Robyn Doyon-Aitken
Senior Producer
Photo: Courtesy of Chef Rossi.