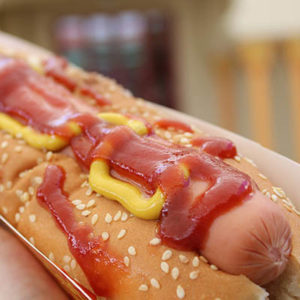 If you're like us, when you think about local foods, you probably think about all the great vegetable farms we have here, the local coffee roasters, and beer breweries. And, of course, if you live anywhere near New Haven, you think of pizza. You think about our great dairies and ice cream, our baked goods. . . SO MANY good things. But, you probably don't think about hot dogs. Chris Prosperi DOES, though. And he schooled us on the great local hot dogs made right here in Connecticut. Here are his favorites:
Hummel Brothers in New Haven (LOVES the foot-long red hots)
Mucke's in Hartford (the best grilling hot dog)
Grote & Weigel in Bloomfield.
• ON-DEMAND: Listen to Faith and the gang talk about their favorite hot dogs, as well as how to organize a hot dog bar for guests. •
If hot dog "shacks" are your thing, check out this list of Top Dogs in Connecticut (includes senior producer Robyn Doyon-Aitken's favorite local hot dog hangout, Blackie's).
If you've got a favorite hot dog or hot dog stand, share it with us!