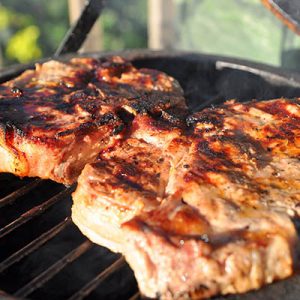 Who doesn't love a juicy pork chop? But, modern pork could use a little help.
ON-DEMAND: Listen to Faith and the gang offer up tips and tricks for making ho-hum pork chops absolutely fabulous—on the grill or on the stovetop.
• Buy the best pork you can afford. Fat is flavor and supermarket pork has become less fatty, so less flavorful. If you can, seek out a local farmer or butcher for the best pork. Supermarket pork CAN be improved, however. . . .
• Swine loves brine. Chris Prosperi uses a simple brine: 3 Tablespoons kosher salt, 3 cups water. Let the pork soak in the brine for up to 4-hours before cooking. Even a 20-minute soak is better than nothing, in a pinch.
• Alex Province finds thinner, bone-in pork chops can actually give you more of the crust/protein ratio you want on the chop. Instead of grilling, Alex prefers a sear-roast cooking method for his chops (helps when you want those drippings for a pan sauce).
• You want that wonderful crunchy crust on as much of the meat's surface as possible. When cooking pork chops in a cast-iron skillet, do what Faith does: after both sides are cooked, use tongs to hold up the chop and sear the chop's edges.
• Pork chops are best accompanied by a sauce, and fruit sauces are really speaking to us right now. You can't go wrong with fruit and herbs. Here are some ideas for quick sauces that elevate your pork chops: peach preserves cooked in wine and butter, classic barbecue or a maple-centric sauce, grilled pineapple or apple slices and brown sugar, or smashed blueberries with herbs and a splash of balsamic vinegar. Mark Raymond, of course, loves chimichurri on just about everything, including pork chops; cook your chops and serve it on the side.
Photo: bitslammer/Flickr, creatrive commons