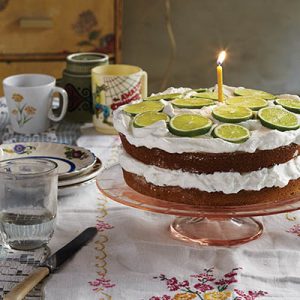 How to cook dinner's unsung hero—pork—two ways: grilled and sear-roasted. Plus simple sauces that make it better. Think: peach preserves cooked in wine and butter, classic barbecue, and grilled pineapple or apple slices and brown sugar. Finally, award-winning photographer Dan Goldberg shares recipes for lobster rolls, black bean burgers, and a beautiful Mojito Cake with Rum-Infused Whipped Cream from his gorgeous new book, ¡Cuba! Recipes and Stories From the Cuban Kitchen.
Aired: July 6, 2017
Photo: copyright ©2016 by Dan Goldberg
CONTRIBUTORS AND GUESTS: 
• Chris Prosperi — chef/owner, Métro Bis in Simsbury, Conn.
• Alex Province — wine expert
• Mark Raymond — wine expert
• Robyn Doyon-Aitken — senior producer
• Dan Goldberg — photographer and co-author of ¡Cuba!
MUSIC:
• "Can't Stop the Feeling," Justin Timberlake
• "Pork Chops," Eric "Two Scoops" Moore
• "Beans and Cornbread," Louis Jordan and The Tympany Five
• "Endless Summer," Oceana
• "Resumen de Los 90," Alexander Abrevy Havand D' Primera
• "Everybody Eats When They Come to My House," Cab Calloway