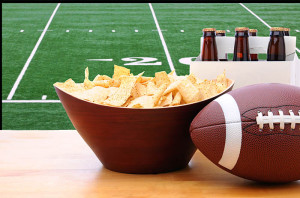 All those salty and spicy snacks are bound to build up a thirst. So, in preparation for the big game, we took an informal office poll. What does The Food Schmooze® team drink while they're watching the Super Bowl?
Catch the show: Listen to our Super Bowl Party Food show now and subscribe to the show podcast to never miss a drop.
Faith: I like the snappy cheer of dry rose sparkling wine for Super Bowl watching, or any TV gathering. Love the taste and bubble, the soft pink looks like a party in the glass, and it's great with all the good stuff we eat at these events, like chili, ribs, wings, shrimp, chips, guac and stew…even pizza. I'd spend $10-15 a bottle.
(Faith also recommends The Shandy Gaff Beer Cocktail. Get the history on the drink and, Ladies, mix one up tonight—because you can.)
Anthony: Margaritas (in moderation) pair well with the chips and salsas and chili.  Then, I might switch to beer. Even better: My go-to is a Michelada. (It's a Mexican beer/bloody Mary of sorts).  Ooh and bloody Marias or bourbon bloody Marys with bacon. And, since the Super Bowl is more of an evening event with spicy foods, a digestive like a Negroni perhaps, one with tequila or smoky Mezcal or even better, a Boulivardier (with rye). I'd even sip on a nice bourbon old fashioned.
Mark: I like a good old fashioned clam dip (made from scratch ) or onion dip with ruffled-style potato chips. Either go well with a delicious malty-style Octoberfest beer. But , if I'm having guacamole, I'll lean towards a lighter beer. Of course if the timing is right, I could always enjoy a classic Gin and Tonic. Either way, I'm watching the game and enjoying the company I'm with.
Chris: I'm a traditional guy. I toss together a "chips salad" (Think: classic potato mixed with flavored chips like BBQ or the waffle-cut Buffalo chicken potato chips by Cape Cod), sit back, and open a Yuengling. Or two. It's a long game.