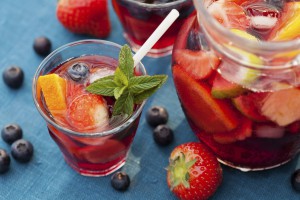 Sangria as thirst-quenching sparkler? Olé is what we say. This seductive, joyous cocktail comes from our regular contributor Alex Province, and it goes with everything.
Before we tell you how to make it, take a ride in our way-back machine… see the sangria served at 1950s parties, when fun-filled hosts wanted to offer something "continental." Into a punch bowl they would pour some red wine and a can of fruit cocktail, including the syrup. We think it's time for a reset.
Alex's potent mood bath has some bitter orange notes, and just enough sugar to make you smile. The surprise is that the effervescence comes mainly from a splash of soda, American or Italian, whichever one you can find, or prefer. Faith and Alex are big fans of the Italian herbal concoction, Aperol, with its burnt orange flavor, and this sangria uses it to its best advantage. You have never had a sangria like this, one foot planted in tradition, and one foot planted here and now. Full speed ahead.

Slice the citrus fruit and add to a large pitcher. Sprinkle in sugar to taste. Add brandy or gin and with a wooden spoon muddle (gently crush) the fruit. Allow fruit and brandy/gin mixture to macerate for a few minutes (or up to overnight in the refrigerator).

Add shot of orange liqueur, shot of aperol, 750 ml of wine, and ice. When ready to serve, strain into a large wine glass with ice and top off with soda.

Garnish with freshly cut citrus slices.