Everybody knows them as The Neelys, Pat and Gina, the husband and wife cooking team on The Food Network. In their cookbook, Back Home with The Neelys, we discovered a recipe that is fresh as a summer breeze—grilled salmon, topped with a salsa or "relish" of chopped peaches, jalapeño, red onion, and lime juice. Not only is this crazy easy to make, the salsa can be made the night before.
The Neelys wisely call for removing the jalapeño's seeds before you dice it, so that the pepper adds a note of heat without being too hot. A touch of sugar balances the whole recipe nicely, along with the sweetness of the peaches against the zing of the lime and red onion.
Faith adapts this recipe just a bit by cutting her fresh peaches in half and dipping the cut sides in white sugar. She grills them cut-side down until they caramelize, watching them carefully so they don't burn, and then she chops them and makes the salsa. It's an extra little step, but the peaches are amazing this way.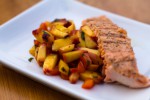 Grilled Salmon Is Magic with Fresh Peach-Jalapeño Salsa

Recipe from Back Home with the Neelys by Pat and Gina Neely, pubished by Knopf, 2014
Ingredients
Instructions
Combine the peaches, onion, jalapeño, lime juice, and sugar in a small bowl. Season with salt and pepper, and let stand at room temperature while you prepare the salmon.

Heat grill to medium-high heat.

Season the salmon fillets on both sides with salt and pepper. Using a clean tea towel, wipe grill grates with olive oil. Grill salmon on each side for 4 minutes. Service topped with peach relish.