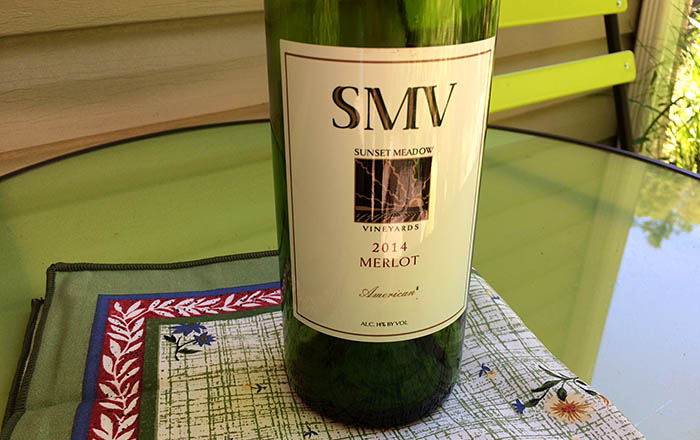 After five minutes, the merlot from Sunset Meadow Vineyard in Goshen, Conn., bursts open in the glass. But the glass is not the only destination for this beautiful red. Amanda Glover (a.k.a. Amanda Bakes) uses SMV's wine in the Chocolate Merlot Cakes she's famous for making out of her Airstream bakery. Amanda uses a whole cup of merlot in her recipe, and it's just the right amount, adding nuance and a subtle, mellow sweetness to the rich mini-bundts. SMV's merlot is in the glaze, too.
• ON-DEMAND: Listen to Faith and the gang describe this wine (and Amanda Glover's cake) on The Faith Middleton Food Schmooze®. •
Along with a bottle we were more than happy to sip, Amanda brought several sweets from her bakery to share with the Food Schmooze® team. Her Chocolate Merlot Cakes were the ones Chris Prosperi couldn't stop thinking about, thanks—in no small part—to the wine.
The grapes in SMV's merlot are grown on over 50 acres of prime farmland in the hills of Litchfield county, and aged in American and French oak barrels. Its flavor has notes of cherry and black pepper—chocolate boosters for sure. You'll find bottles for $19.00 to $20.99 at the vineyard.