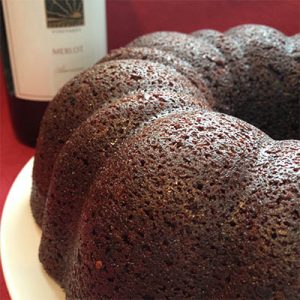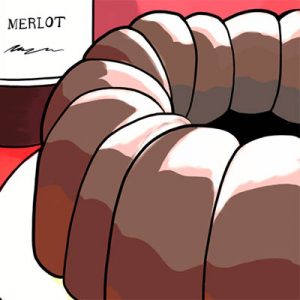 Nothing beats drinking a glass of frozen Merlot (called a Merlita) on a warm summer afternoon, overlooking the Litchfield Hills at Sunset Meadow Vineyard in Goshen, CT. Nothing except for eating this rich chocolate merlot cake… anytime… anywhere…
— Amanda Glover, Amanda Bakes
• ON-DEMAND: Listen to Faith and the gang rave about this cake and Amanda's Airstream bakery, affectionately called Sweetie. •
Photo (left): Courtesy of Amanda Glover. Recipe art (right): Copyright ©2017 Raheem Nelson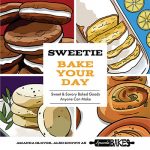 Excerpted from Sweetie Bake Your Day: Sweet & Savory Baked Goods Anyone Can Make by Amanda Glover. Published by Ingram Spark Publishing. Copyright © 2017 Sweetie LLC.

Servings:
6-cup bundt cake
Preheat the oven to 350℉. Generously butter or spray a bundt pan. Dust the inside of the pan with flour, then invert over your sink and tap gently to remove excess flour.

In a large sauce pan, bring the merlot and the butter to a simmer. Remove from the heat add the cocoa powder and whisk until the mixture is smooth. Set aside to cool.

In a large bowl, whisk the flour, sugar, baking soda and salt to blend. In another bowl, whisk together the eggs and sour cream to blend, add the merlot-cocoa mixture and whisk vigorously to combine. Add the flour mixture and using a rubber spatula, fold the batter until completely combined.

Spoon batter into prepared pan and bake for approximately 35-40 minutes, until the top feels springy and a toothpick inserted comes out clean. Cool for 15 minutes before turning out onto a wire rack to finish cooling.

Meanwhile, make the dark chocolate glaze. In a medium bowl, whisk together the sugar, cocoa powder and salt. Set aside.

In a large, heavy bottomed pot melt the butter, merlot and the heavy cream together, but do not bring to a boil! Add the cocoa-sugar mix to the warm cream and whisk vigorously until smooth and shiny. Add the sour cream and stir until blended. Cool slightly, then pour evenly over the cooled cake. Cake can be kept at room temperature in an airtight container for several days.