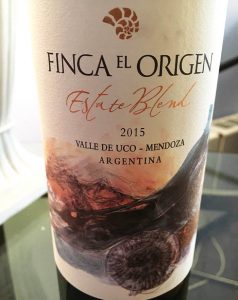 Finca el Origen's Estate Blend (2015) is a steal at $15 a bottle. Harvested from the Mendoza region of Argentina, this red is born of vines from a soil once abundant with oceanic fossils (note the shell design on their label).
• ON-DEMAND: Listen to Faith and the gang describe this wine. •
Mark Raymond describes the wine as intensely flavorful. You'll get ripe, sweet dark plum and dark berries like blackberries and blueberries. Faith detects those characteristics, plus a slight whisper of dark cherry. As you might have guessed, this is not a sweet wine. This Cabernet Sauvignon and Malbec blend is dry with a structure and body that make it food-friendly and a natural pairing with proteins (Argentines know how to grill steak like nobody's business). Malbec and Merlot is a common red wine blend, but Cabernet Sauvignon and Malbec—just those two grapes—less so, making it unique in the market. If you love reds, this is a wine to try.
Want to taste this wine for yourself?  Call ahead to your wine store, and tell them the distributor is Angelini Wines. If they don't have a bottle in stock, a good wine shop will order it for you.