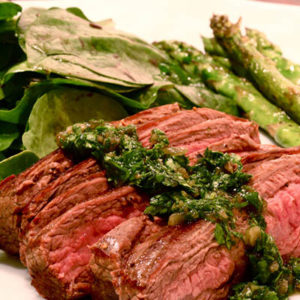 Many Argentines and Brazilians know how to party, and when they do, out comes someone's much-loved Chimichurri sauce. While we've had this alluring sauce for beef in many restaurants, most versions were just okay, not the real thing. Ah, but this one is fantastico! Sashay over to the grill and have at it.

Combine all the ingredients except the parsley in a food processor until finely chopped. Add the parsley and pulse until a pestolike consistency is reached. The sauce is best served fresh, but it can be made up to 3 days in advance. If making ahead, transfer to an airtight container and refrigerate until ready to use.
You can grill the steak outdoors, of course. But if you like the sear of cast iron, here's what to do: preheat the oven to 450°. Let the steak and chimichurri return to room temperature.

Generously season one side of the steak with salt and pepper. Meanwhile, heat a large skillet, preferably cast iron, over medium heat. A really hot pan is the key to this great big steak, so leave the skillet on the stove for about 10 minutes.

Now is the time to open up all your windows, because it's going to get smoky! Place the seasoned side of the steak down on the skillet and sear for 3 minutes. Season the top with salt and pepper, then flip it. Sear for another 2 minutes and place in the oven for 10 minutes for medium-rare. allow the meat to rest on a cutting board for 5 minutes before cutting into it. Serve the steak with the Chimichurri sauce in a small ramekin or add a dollop right on top.