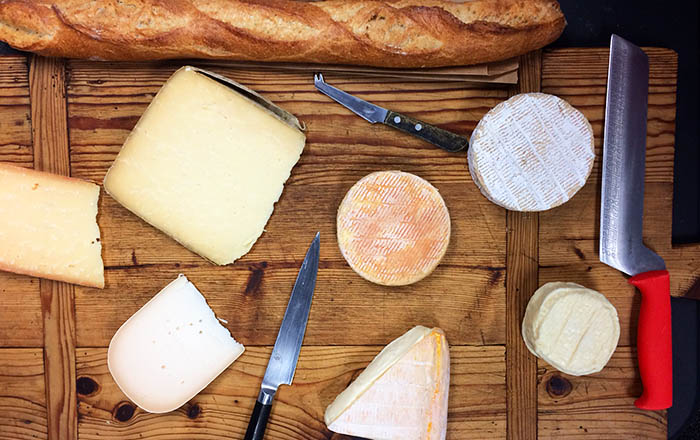 Senior producer Robyn Doyon-Aitken needed some help upping her cheese plate game. Luckily, Jason Sobocinski from Caseus Formagerie & Bistro is just down the road from The Food Schmooze® studio in New Haven, and he joined the party to give his recommendations.
LISTEN: Jason Sobocinski talks cheese, wine pairings, Oktoberfest beers, and more on The Faith Middleton Food Schmooze®.
Jason is a big believer in the power of simplicity. The simpler, the better. Ideally, for Robyn's re-tooled fall cheese board:
Three cheeses – one acidic, one  sweet, one strong and robust
• Sharp/acidic: Classic Clothbound Cheddar —Jason recommends Cabot.
• Sweet: Pradera Gouda — A 7-year aged cow's Gouda. It's one of Jason's favorite fall cheeses.
• Strong: Camembert  — The one we tasted was from Normandy. It's a next-level cheese, so connoisseurs we appreciate it.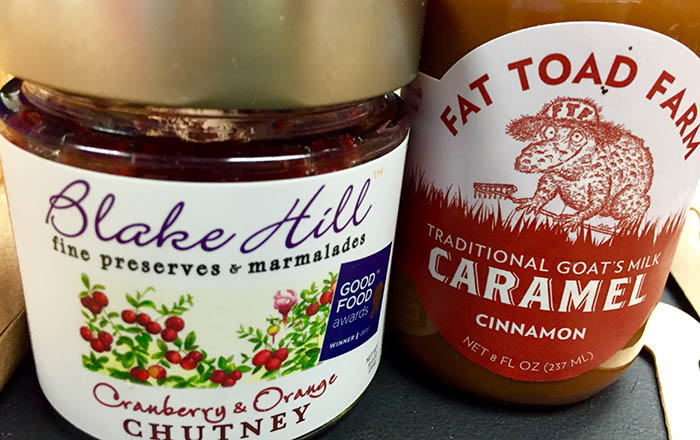 Here's a list of all of the cheeses we tasted and their placement in the image above. Jason also shared condiments (Blake Hill Cranberry & Orange Chutney and Fat Toad Farm's Goat's Milk Caramel) that brought the cheeses over-the-top in terms of deliciousness. Robyn decided to eat all her cheese with a dollop of caramel from now on.
• Pradera Gouda (left)
• Cabot Clothbound Cheddar (large square wedge)
• Braubander Goat Gouda (white wedge below)
• Munster Haxaire (orangeish small circle)
• Camembert (upper right)
• Mystic Cheese Co Sea Change (pinkish gooey triangle)
• Mystic Cheese Co Frost (white brainy-rind small circle)
Now that you have some ideas for what cheeses to serve, get two wonderful wine recommendations from Alex Province guaranteed to elevate both the cheese and the wine.