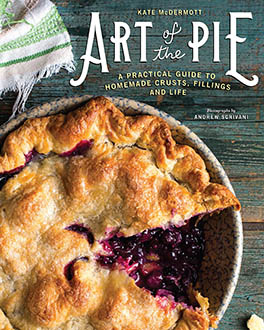 If you bake pie, you're in luck. If you don't bake pie, you're in luck. Kate McDermott's new book, Art of the Pie is indeed, EXACTLY what her subtitle says, A Practical Guide to Homemade Crusts, Fillings, and Life. And life. Can you imagine?
Kate's got three rules of pie making, Rule #1:  Keep Everything Chilled, Especially Yourself. A "chill" Thanksgiving? Sign me up! Rule #2: Keep Your Boundaries. "Thinking about how I handle something as simple as finishing the edges of a pie helps me pay attention to the boundaries of my own life.  . . .Because I need lots of help remembering that it's okay to have boundaries, I practice on pie." Making pie is meditative. I can totally see this. Rule #3: Vent. Pies erupt. People erupt. You've got to let the steam out. You said it, sister.
ON-DEMAND: Listen to Faith's conversation with Kate to learn more about Kate's approach to making pie.
Kate's book is loaded with tips, techniques, and tried-and-true methods for pie making that only a woman born to bake pies can share. She's a self-taught baker with an unbelievably large collection of pie memorabilia, including 70 ceramic pie plates, 14 Pyrex glass pans, and 14 metal pie tins—all kept in her Pie Cottage in Washington state. All of us from the show would like to move there. Kate also facilitates Pie Camp so she can pass her knowledge on to anyone who wants to learn how to bake pie. Don't be surprised if, sometime in the future, we bring you a show from Pie Camp. Kate's passion for pie is so contagious, you'll want to sign up for Pie Camp too.
Get a slice of the recipes in Art of the Pie:
Pumpkin Pie
Cranberry Pie
Gluten-Free Nutty No-Bake Crust
Sausage and Apple Savory Supper Pie
More Holiday Recipes: If all this talk of pie has you thinking about Thanksgiving, check out Our Best Thanksgiving Recipes for more pie recipes, plus turkey, stuffing, gravy, and sides—everything you need to enjoy a stress-free holiday.
— Robyn Doyon-Aitken
Senior Producer
P.S. Signed copies of Art of the Pie are available from Kate's local book store. They'll ship anywhere in the U.S. Sweet!