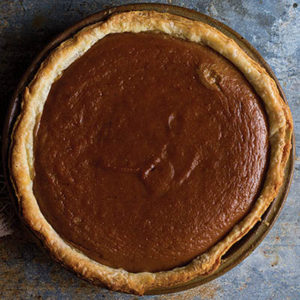 This pie should have a slight jiggle in the middle, about the size of a silver dollar, when it comes out of the oven. It will "set up" as it cools.
On-Demand: Listen to Faith's conversation with Kate McDermott about this recipe as well as several other Thanksgiving recipes, including a glorious Cranberry Pie and a Gluten-Free Nutty No-Bake Crust.
Need more holiday recipes? Check out our page devoted to Our Best Thanksgiving Recipes, where you'll find more pies, as well as turkey, stuffing, and gravy recipes. All the classics—and more!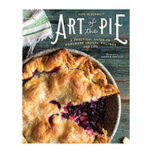 Excerpted from Art of the Pie: A Practical Guide to Homemade Crusts, Fillings, and Life by Kate McDermott. Published by The Countryman Press • A division of W.W. Norton & Company. Copyright © 2016 by Kathleen L. McDermott, Photographs Copyright © 2015 by Andrew Scrivani.
Servings:
9-inch shallow pie
Preheat the oven to 425°F (220°C).

Roll out a pie shell and place it in a pie pan. Trim excess dough from the edges and crimp.

Whisk the eggs in a medium bowl until they are light-colored and fluffy. Stir in the pumpkin, coconut milk, sugar, salt, cinnamon, ginger, nutmeg, and clove until the ingredients are thoroughly mixed.

Pour the filling into the pan. Place the pie in the oven and turn down immediately to 375°F. Bake for approximately 50 minutes.

Remove the pie from the oven and set on a rack to cool completely.