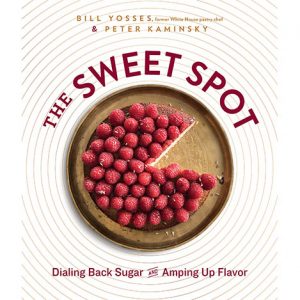 Former White House pastry chef Bill Yosses' The Sweet Spot, written with Peter Kaminsky, is a book for ambitious bakers (call the recipes "presidential," if you like), or for people who really do think outside the sugar bowl when it comes to pantry staples. If you're adventurous and know your way around ingredients like alt-flours made of whole wheat, chickpeas, and nuts or nut milks, essential oils, drinking vinegars, and various thickeners and stabilizers (i.e. chia seeds, xanthan), this cookbook is for you. It's also for bakers who want to incorporate those ingredients into their baking because they're interested in Bill's philosophy: You don't need cup after cup of granulated sugar to bake stand-out desserts. Treat sugar like you would salt.
• ON-DEMAND: Listen to Faith and Bill talk about the recipes in the book, as well as the inspiration and philosophy behind them. •
You can actually recalibrate your taste buds to appreciate a more natural sweetness. When sugar is dialed back, other flavors come through. Think of Bill's recipes as desserts with depth.
There are lots of interesting flavor combinations in the book: Apple Pie with Caramelized Honey and Tamarind Vinegar, Kabocha Persimmon Pie, Chocolate Quinoa Cream Pie, Semolina Cake with Cherry Licorice Sauce, a spin on Julia Child's Queen of Sheba Cake, and Match Green Tea Roll with Blackberry Pastry Cream.
There's an intriguing chapter called "Soft Stuff" which includes nut and coconut milk cakes, puddings, a no-bake flan, trifles (we recommend Bill's Strawberry Trifle with Lemon Verbena Cream this spring), Spiced Mocha Semifreddo, and Bourbon-soaked Prune Dessert Frittata. Doesn't all that sound dreamy?
Even the cookies in this book are presidential: a Moroccan "Casbah" cookie, Fennel Snaps (good with cocktails, we're guessing), and Popped Quinoa Chocolate Cookies. Some of the foamier recipes in the "Fancy Bites" chapter look inspired by molecular gastronomy, but there ARE also Olive Oil Truffles, and anyone can make those!
Get a Taste of the recipes in the book:
Maple Apple Tarte Tatin
Almond Cake with Elderflower Cream
Poached Whole Pineapple