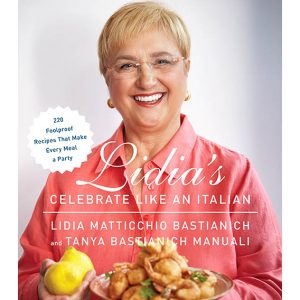 Lidia Bastianich has done it again. Along with co-author (and daughter) Tayna Bastianich Manuali, Lidia's compiled a collection of recipes in Lidia's Celebrate Like an Italian that turn meals into parties—delicious parties with Italian accents.
• ON-DEMAND: Listen to Faith and Lidia talk about the recipes in this book during Lidia's guest appearance on The Faith Middleton Food Schmooze. ® •
If you're a hesitant entertainer, or you feel intimidated when cooking for a crowd (anything more than four is a crowd to us), you're in excellent hands, here. Lidia, in her warm, encouraging way, takes you through aperitivi to appetizers to salads and soups to sides, pastas, entrees, and desserts. With more than 200 of Lidia's favorite recipes, you'll find yourself mixing, matching, and looking for reasons to invite pals over for a party. Lidia helps with the planning, too (there are even tips for hosting a BBQ and imagine this—a wedding). Of course you can pull it off! Lidia will show you how.
The latest book is a must-get for all fans of Lidia's work (whichever work of Lidia's you love: there are the PBS cooking shows, the too-many-to-count cookbooks, the NYC restaurants. . . the list goes on and on because nobody loves to cook—and celebrate cooking—more than Lidia).
Get a taste of the recipes in Celebrate Like an Italian:
Polenta Torta with Gorgonzola and Savoy Cabbage
Roasted Guinea Hen with Balsamic Glaze
Almond Torte with Chocolate Chips