Torta di Mandorle con Gocce di Cioccolato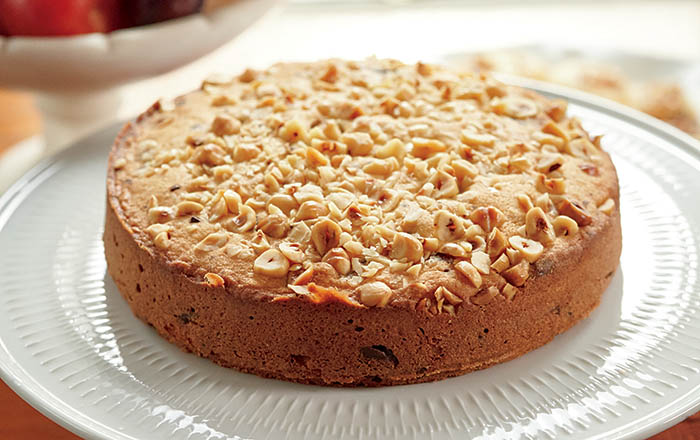 This cake is delicious as is, but can also be served with a dusting of confectioners' sugar, whipped cream, or zabaglione. It's great for breakfast or brunch, as well as dessert.
— Lidia Matticchio Bastianich and Tanya Bastianich Manuali
• ON-DEMAND: Listen to Faith and Lidia talk about this recipe during Lidia's guest appearance on The Faith Middleton Food Schmooze®. •
Want more Lidia? Listen to Faith's conversation with Lidia about her new memoir, My American Dream.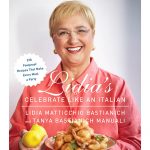 Excerpted from Lidia's Celebrate Like an Italian: 220 Foolproof Recipes That Make Every Meal a Party by Lidia Matticchio Bastianich and Tanya Bastianich Manuali. Published by Alfred A. Knopf, a division of Penguin Random House, LLC. Copyright © 2017 Tutti a Tavola, LLC. Photo by Steve Giralt.

Servings:
people (or more)
Preheat oven to 350 degrees. Butter and flour the bottom and sides of a 10-inch springform pan. Sift together the all-purpose flour, baking powder, and salt onto a piece of parchment.

In a mixer fitted with the paddle attachment, cream the butter and sugar at medium-high speed until light and fluffy, about 2 minutes. At medium speed, add the eggs one at a time, mixing each in thoroughly before adding the next, and scraping down the sides of the bowl as needed. Beat in the lemon zest and almond extract, then raise the speed to high and beat the batter until very light, a minute or more. At low speed, mix in half of the sifted flour mixture, beating just until it is incorporated; beat in half the almond flour. Scrape the bowl, and mix in the remaining flour and almond flour. Beat briefly at medium speed to make a smooth batter. At low speed, mix in the chocolate chips just until evenly distributed. Scrape the batter into the prepared pan, and spread it in an even layer. Scatter the sliced almonds all over the top.

Bake, rotating the pan halfway through the baking time, until the cake is golden brown on top and a knife inserted in the center comes out clean, about 45 minutes. Cool the cake in the pan for about 10 minutes on a wire rack. Run the blade of a paring knife around the edge of the cake, then open the spring and remove the side ring. Cool the cake completely before serving. Cut it into wedges, and serve.