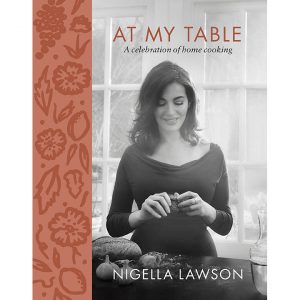 Ever wonder what the original domestic goddess cooks at home? Nigella Lawson's At My Table answers that question in the most delicious ways. It's no wonder so many of the recipes Nigella cooks at home can be categorized as comfort food (think: roasted meats, curries,  and mashed potatoes); everything about her is comforting: her voice, her gentle direction, her encouragement of the home cook, "nothing can do the job of your palate. . .you need to taste, taste, taste, and taste again." We can all do that. In fact, spend some time with Nigella's new cookbook, and taste is all you'll want to do.
• ON-DEMAND: Listen to Faith's conversation with Nigella on The Faith Middleton Food Schmooze. •
Weeknights, weekends. . .if you love to cook your way through books, this is one that compels you to the stove—even during the dog days of summer.
Cook like Nigella (at your own table!):
Turkish Eggs
Spicy Mint Lamb Chops
Emergency Brownies
— Robyn Doyon-Aitken
senior producer