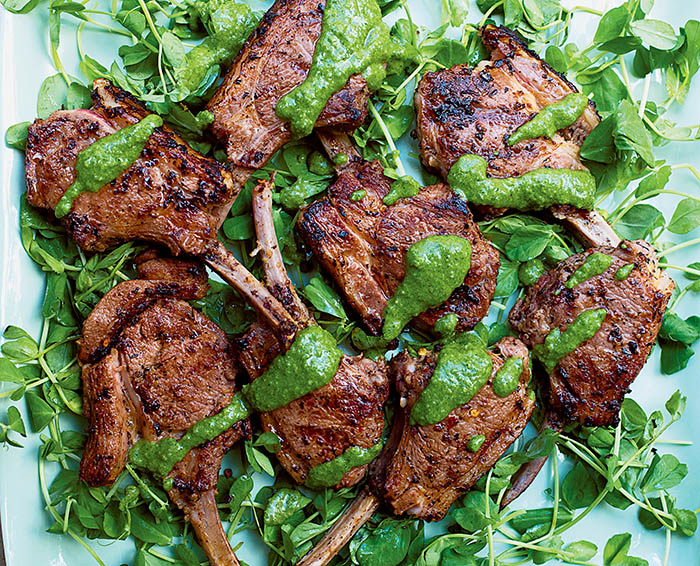 Although not an instant dinner, this is nonetheless simple and speedy to make. You do need to marinate the lamb for 30 minutes or so, but you can pour yourself a glass of wine, sit back and enjoy it, then whizz up the mint sauce in the meantime.
Speaking of which, this is a simple, spontaneous reworking of the old-fashioned vinegary mint sauce my mother used to make, using ingredients from my kitchen now. Namely, I saw two preserved lemons left bobbing hopefully about in their jar, and thought this would be an excellent opportunity to use them up. It was: the preserved lemons' intense and scented sourness counters and enhances the mint perfectly.
— Nigella Lawson
• ON-DEMAND: Listen to Faith and Nigella talk about this recipe, and others from Nigella's book, on The Faith Middleton Food Schmooze®. •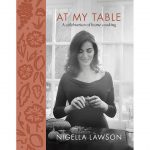 Excerpted from the book AT MY TABLE by Nigella Lawson. © 2018 by Nigella Lawson. Reprinted with permission from Flatiron Books. All rights reserved. Photography by Jonathan Lovekin.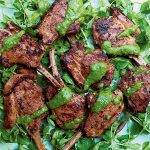 Put the lamb rib chops into a resealable plastic bag and add the olive oil, finely grated zest and juice of the lemon, dried mint, red pepper flakes, salt, and minced garlic. Seal the bag and give a good squidge before marinating for 30–40 minutes, long enough for them to come to room temperature.

To make the sauce, put the mint, garlic, preserved lemons and juice, and half the oil into a bowl and patiently blitz with an immersion blender. When most of the leaves have been incorporated, pour in the remaining oil and blitz again, until you have a deep emerald, emulsified sauce. Taste to see if you want to add salt, though I find the preserved lemons give all the salinity you need, and I am an enthusiastic salter.

Heat a grill pan (my preference) or heavy-based frying pan, then lift the cutlets out of the marinade and cook them over a high heat – if you want them a little pink – for 2 minutes each side. But check and cook longer as needed.

Arrange the lamb cutlets on a plate, lined with the greenery of your choice. Serve with the fragrant, sharp mint sauce, drizzling some on the cutlets too, if you so wish.