Podcast: Play in new window | Download (Duration: 52:45 — 48.5MB) | Embed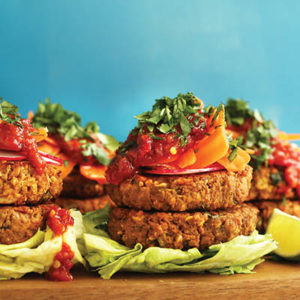 This week, we go nuts over one of the best burgers we've ever tasted, and it happens to be vegetarian. The burger is from blogger and cookbook author Dana Shultz (a.k.a. The Minimalist Baker). We talk to Dana about her Thai Peanut Burger, among other recipes in her new book, Minimalist Baker's Everyday Cooking. Mark Raymond shares a great organic value white wine. Alex reports back on his experiences with weekly-recipe kit company, Hello Fresh, and Anthony inspires you to give mimosa the morning off with his latest cocktail, which is perfect for Mother's Day brunch and bridal showers. For dessert, we take nachos in a sweet direction with chocolate-covered tortilla chips. Finally, because we're seeing temperatures in our region rise up into the 70's, we're talking grilling again (get used to it!). Faith and the gang discuss Cook's Illustrated's grilling tips and the best grills to buy.
Photo: Copyright © 2016, Dana Schultz.