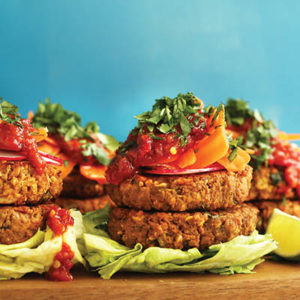 These veggie burgers are an infusion of some of my favorite Thai flavors. The chickpea base is incredibly hearty, peanut butter and soy sauce add loads of flavor, and chili garlic sauce ties everything together with a little heat. Serve with peanut sauce and fresh carrots for extra sweetness and crunch.
Reprinted from Minimalist Baker's Everyday Cooking by arrangement with Avery, a member of Penguin Group (USA) LLC, A Penguin Random House Company. Copyright © 2016, Dana Schultz.
ON-DEMAND: Listen to Faith and Dana discuss these burgers as well as other recipes from the book.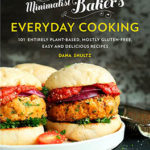 Read our book review to learn more about Minimalist Baker's Everyday Cooking and check out more of Dana's recipes.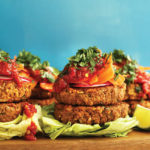 Servings

Prep Time

8

patties

25

Minutes
Servings

Prep Time

8

patties

25

Minutes
Preheat oven to 375 degrees F and lightly grease baking sheet.

In large mixing bowl, roughly mash chickpeas with fork, leaving a few beans whole for texture.

Add cooked quinoa, diced green onion, peanut butter, crushed peanuts, tamari or soy sauce, chili garlic sauce, brown sugar, and a pinch of sea salt.

Stir to combine and adjust seasonings as needed, adding more tamari, soy sauce or salt for saltiness, chili garlic sauce for spice, and brown sugar for sweetness. If the mixture is too wet to form into patties, add more ground peanuts.

To form patties, line 1⁄4 cup measuring cup with plastic wrap. Scoop in mixture and pack with hands, then fold over edges of plastic wrap to form a tight burger. Use wrap to lift burger out of measuring cup. Place on baking sheet. (Alternatively, use hands to form patties.) Press down very slightly so the burger is not as tall. Repeat until all burgers are formed.

Bake for 20 minutes, carefully flip, then bake 15-20 more minutes. The longer they are baked, the crispier they will become.

Serve on hamburger buns (gluten free when necessary) or lettuce wraps with desired toppings. Double stack the patties for a heartier burger.

Leftovers keep covered in the refrigerator for 2-3 days, though best when fresh. See notes for freezing instructions.
Total time does not include cooking quinoa.
To freeze, partially bake burgers for 20 minutes and let cool completely. Arrange on a baking sheet and freeze until firm. Transfer to a freezer-safe bag or container, laying parchment paper between to prevent sticking, and freeze for up to 1 month. To reheat, bake in 350 degree F oven for 20-30 minutes, or until warmed through.