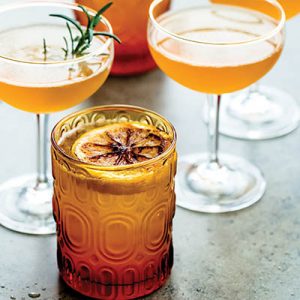 Cocktail lovers rejoice! Drinks writer Maggie Hoffman's new book, The One-Bottle Cocktail, is filled with creative drink recipes that include a single spirit, plus fresh ingredients—think fruits, veggies, herbs, and spices—you likely have in your fridge or pantry right now. Maggie is with us for the whole hour. Think of it as a cocktail party!
Because this is our official book of the summer, you can order The One-Bottle Cocktail for yourself or the cocktail lover in your life, and give The Faith Middleton Food Schmooze® and Connecticut Public Radio a gift at the same time. For a pledge of $8 a month or a one-time gift of $96, we'll send this book to you with our thanks.
Aired: June 14, 2018
Photo: Grilled Margarita by © 2018 by Kelly Puleio.
CONTRIBUTORS AND GUESTS:
• Chris Prosperi — chef/owner, Métro Bis in Simsbury, Conn.
• Robyn Doyon-Aitken — senior producer
• Maggie Hoffman — author of The One-Bottle Cocktail
MUSIC:
• "Drink Up," Train
• "Tequila," The Champs/Vinnie Maniscalco Remix
• "Blender Blues," Bonnie Raitt