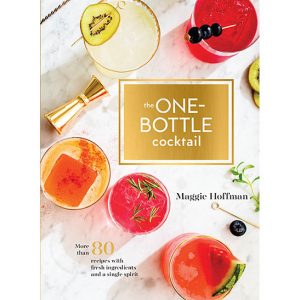 Want to become a maker of great cocktails without spending a fortune on liqueurs, bitters, and fancy mixes? Food and drinks writer Maggie Hoffman has the answer. Her new book, The One-Bottle Cocktail features more than 80 drink recipes with fresh ingredients and a single spirit. One spirit!
• Order your copy now and help support The Faith Middleton Food Schmooze® and everything you hear on Connecticut Public Radio. •
No more buying mystery ingredients at the liquor store—hoping you like the restaurant-inspired cocktails you make at home. The One-Bottle Cocktail re-imagines multi-spirit cocktails subbing in fresh supermarket ingredients and pantry staples that deliver the nuance and complexity of the cocktails skilled bartenders hang their hats on.
• ON-DEMAND: Listen to Faith and Maggie talk about the recipes in this book. •
Some of the best bartenders in the country contributed recipes showcasing the things you put in your grocery cart every week: honey, fennel, fresh herbs, citrus of all kinds, cucumbers, arugula, carrots, ginger, berries, and melon. Plus pantry staples like chutneys and marmalades (apple butter!), siracha, and spices like cinnamon, garam masala, and black pepper. Are you imagining the flavor profiles in these cocktails?
What a gift this book makes. . .put it in a basket with a bottle of vodka, gin, tequila, rum, brandy or whiskey—they're all covered in the book—along with limes, lemons, some herbs, maybe a shiny cocktail shaker. OR skip the basket, and give yourself the gift of The One-Bottle Cocktail. Because this is our official book of the summer, you can order The One-Bottle Cocktail for yourself or the cocktail lover in your life, and give The Faith Middleton Food Schmooze® and Connecticut Public Radio a gift at the same time. For a pledge of $8 a month or a one-time gift of $96, we'll send this book to you with our thanks.
We're keeping this book at a low, low pledge price because we want you to have a few dollars left over to host a party! Several recipes in The One-Bottle Cocktail are served in a pitcher and meant to be shared. We know how generous Food Schmooze® listeners are, and we also know you love a good party. Here's your excuse to throw one before the summer is out.
Mix One Up!
Vodka
Walkabout
El Gallito
Tequila
Olivia Flip
Grilled Margarita