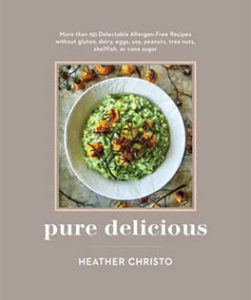 When we had Seattle-based blogger and now cookbook author Heather Christo on the show, Faith went over the list (several times) of what the recipes in Heather's book Pure Delicious DON'T include. There's no gluten, dairy, eggs, soy, peanuts, tree nuts, shellfish, or cane sugar. Got that? That's a lot of stuff you and I throw into our meals every day without even thinking about it. I mean, how does one bake without sugar, and dairy, and eggs, and wheat?
But here's the thing: When you have food allergies or love someone who does, eliminating allergens in your cooking is just what you do. You find a way. It's not easy, but that's why you get a book written by a former chef with a laundry list of allergies who knows how to make clean eating delicious eating.
ON DEMAND: Listen to Faith and Heather's conversation on a recent Food Schmooze®.
The book is gorgeous because the ingredients are. Think allergen-free dishes are lacking somehow? These recipes will change your mind. The book is loaded with classics people with allergies often miss: pizza, breads, biscuits, pastas. Sure, there are substitutions, but nothing the non-allergy folks at the table might pick up on. Gluten-free flour and beet sugar have come a long way, baby.
Some favorites from the book we thought you'd like:
Roasted Halibut with Strawberry-Basil Salsa (awesome on salmon, too)
Radicchio Salad with Raspberries, Radishes, Prosciutto, and Raspberry Vinaigrette
Lemon-Blueberry Coffee Cake 
— Robyn Doyon-Aitken
Senior Producer