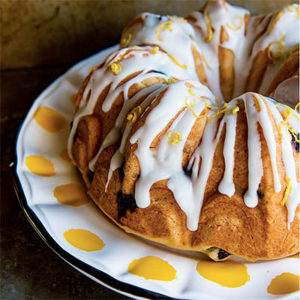 If you're looking for something tasty for Easter or Mother's Day or a baby or wedding shower, look no further. This lovely tender, sweet, and tart lemon cake with juicy little bursts of blueberry and a pretty lemon glaze is perfect for celebrating something great!
Excerpted from Pure Delicious by arrangement with Pam Krauss Brooks, a member of Penguin Group (USA) LLC, A Penguin Random House Company. Copyright © 2016, Heather Christo LLC.

Preheat the oven to 350°F. Spray a 10-cup Bundt pan with cooking spray.

In a small bowl, combine the coconut milk, vinegar, and lemon juice and set aside.

In a large bowl, combine the flour, sugar, baking powder, xanthan gum, salt, and lemon zest and whisk well. Make a well in the center and add the coconut oil, vanilla, and coconut milk mixture. Stir until you have a smooth batter. Very gently fold in the blueberries.

Transfer the batter to the prepared pan and gently smooth the batter to the edges of the pan with a spatula. Bake for 60 minutes, until a skewer inserted into the cake comes out clean. Let the cake cool in the pan for at least 20 minutes, then turn it out onto a wire rack set over a rimmed baking sheet.

To make the lemon glaze: In a small mixing bowl, whisk together the zest of one lemon, lemon juice, coconut milk, and confectioners' sugar until smooth.

Drizzle with the glaze, sprinkle with the remaining lemon zest, then slice and serve.