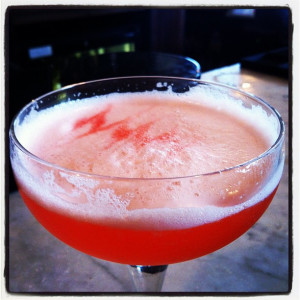 From Alex Province: While I was looking for the perfect (low alcohol) cocktail to serve over the holidays, I stumbled across this martini courtesy of Bourbon & Branch of San Francisco for Williams-Sonoma and it was love at first sight.
Now, anything served in a martini glass is festive in my opinion. And, because it is made with Aperol—a low alcohol Italian bitter orange aperitif—I can rest easy knowing it's not going to get anyone seeing double! Oh, and it's absolutely gorgeous looking and delicious!

Fill shaker with ice and add all the ingredients.

Shake furiously until shaker is frosty cold; about a minute.

Strain into a martini glass and garnish with a twist.