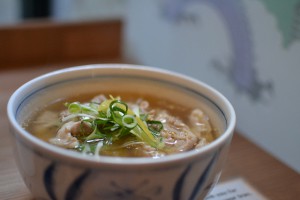 My head snapped around at the idea of blending Middle Eastern and Mediterranean flavors. That's what Einat Admony does in her cookbook,Balaboosta. And there is nothing like her "Not So Jewish Chicken Soup," as she calls it. (Admony has a mixed Israeli heritage, Persian and Yemenite.)
Because I'm a believer in layering flavors, especially in soup, I find this recipe both comforting and lip-smacking, mostly because of the presence of white wine, cumin, turmeric, butternut squash and dried chorizo.
Mid-Winter, when I am in need of some powerful flavors, this chicken soup comes to mind, a variation on the quiet chicken soup our parents and grandparents made. Fair warning: some of your relatives might keel over from the presence of chorizo and all those spices. So don't call it soup — tell them it's an ancient stew recipe. Or Dinner.

Heat the canola oil in a large pot over medium heat and add the onion, leeks, celery, and chorizo. Saute for 10 minutes. Add the carrots, bay leaf, thyme, and chicken and saute for another 10 minutes. Add the white wine and reduce to ¼ cup, 3 to 5 minutes.

Stir in the salt, pepper, cumin, and turmeric. sautè for 3 minutes and pour in the water. Bring to a boil and add the butternut squash and potatoes. Lower the heat and simmer for 40 minutes.
I love the Palacios brand of "dried" chorizo, mild flavor, though you could use the hot version. It's beautifully smoked, and available in many markets, or online.