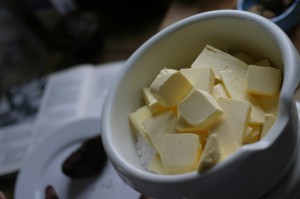 Whisk some spices with butter and you can make so many things mouth-watering. Try it on chicken, fish, beef or pork. Even corn on the cob tastes great with it. Just a dollop will do the trick.

Barbecue Rub (makes slightly more than the 5 Tbsp required)
Add butter to a mixer and whip on medium high until fluffy. Slowly add rub and continue to mix another 2-3 minutes. Scrape down bowl as necessary.

Take a piece of plastic wrap approximately 12 inches long and scrape butter onto one end. Fold plastic over and begin forming into a log. Twist the edges closed and refrigerate for at least two hours.