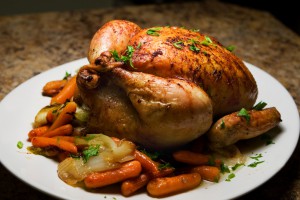 From Faith: Just four simple ingredients… and we have Senior Contributor Chris Prosperi to thank for this slow cooker chicken recipe that turns out the most velvety, moist meat imaginable. The reason for the texture and juicyness, he says, is that the the slow cooker prevents moisture from escaping the bird. Talk about easy… you can throw this together before work in the morning and come home to it!
But if you're a crispy skin-lover, you might be thinking that you'll miss it too much to try this method. Think again. Chris says he places the chicken under the broiler for a few minutes after it comes out of the slow cooker and the skin becomes gorgeously crisped. (See note at end of recipe. As you'll see, you can add a couple of things if you want.) Best Slow Cooker Chicken Ever!

Place chopped vegetables in the bottom of a 6 or 8 quart slow-cooker. (No need to oil the cooker or add water.)

After removing the gizzard bag from the cavity of the whole chicken, salt and pepper the bird. Place chicken on top of the bed of vegetables in the slow cooker. (The chicken can fit snugly but the cover must close properly.)

Turn slow cooker on low for eight hours. When ready, remove skin and serve, or crisp skin under the broiler. (See note below.) The vegetable bed might be thrown away since it will be filled with chicken fat.
NOTE: If you want crisp skin, Chris says lift the chicken out of the cooker slowly and carefully. Let it rest on a cutting board for ten minutes. When it's cool enough to be touched, slice it vertically down the middle into two halves. Place each half, skin side up, on a rimmed baking pan and put it under the broiler for several minutes until the skin crisps the way you like it. But stand there and watch it carefully.
ADD INS: You're free to add things to this recipe. Throw a clove of garlic, a halved lemon or orange, and a sprig of fresh rosemary into the chicken cavity, for instance. Chris says the most decadent thing to do is put down a layer of quartered potatoes in place of the chopped vegetables; the juice and fat of the bird drip into them. You can mash the potatoes when the bird is done, juices, fat and all. Enjoy!