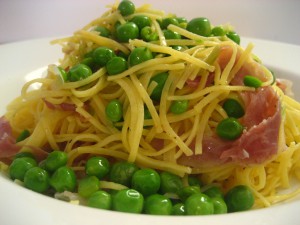 To our surprise, this lovable combination of ingredients is not from Italy, but from Switzerland, according to Cooks Illustrated, which featured this dish in its March/April issue. Dan Souza did lots of tests and discovered that if he used equal amounts of cheese, the prosciutto and other ingredients tasted better than ever. Children and grownups love this hearty dish, and no wonder; what's not to love about a little Gruyere and Parmesan with your noodles?
(NOTE: You can buy gluten-free egg noodles from Jovial, made in Tuscany and sold at many supermarkets in the U.S., including those in our region.)

slice 5 ounces prosciutto crosswise into 1/4-inch-wide strips; set aside. Mince remaining 1 ounce prosciutto. Melt butter in 10-inch skillet over medium-low heat. Add shallot and 1/4 teaspoon salt and cook until softened, about 2 minutes. Stir in cream and minced prosciutto and bring to simmer. Cook, stirring occasionally, until cream mixture measures 1 cup, 5 to 7 minutes. Remove pan from heat and cover to keep warm.

Meanwhile, bring 4 quarts water to boil in large pot. Add pasta and 1 tablespoon salt and cook, stirring often, until al dente. Reserve 2 cups cooking water, then drain pasta and return it to pot.

Add 1 cup reserved cooking water, cream mixture, prosciutto strips, peas, Parmesan, Gruyère, and 1 teaspoon pepper to pasta. Gently toss until pasta is well coated. Transfer pasta to serving bowl and serve immediately, adjusting consistency with remaining reserved cooking water as needed.