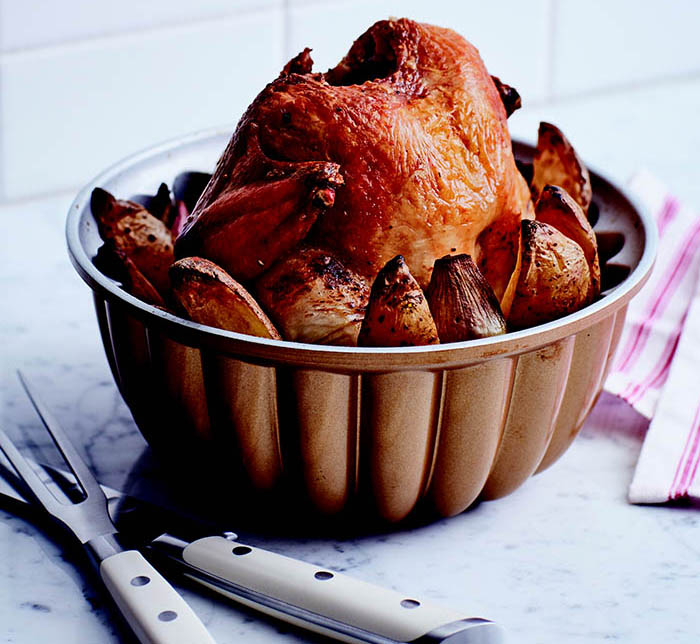 The best tool for carving a roast chicken is a pair of kitchen shears, but you can also use a knife. Either way, start by pulling a thigh-and-leg quarter away from the main section of the bird, then pushing down to reveal the thigh joint. Cut or clip right through the joint. Repeat on the other side.
In the large opening, cut on either side of the spine to remove it from the bird. slice the breast in half lengthwise, then cut each of these halves widthwise in two. of course, remove any meat from the bones for children.
There's actually a fair amount of "classical" French cookery here: the chicken roasted with a mustard glaze, the potatoes done in a little chicken fat (as it runs off the bird). Serve this rich meal alongside a shredded lettuce and carrot salad with a vinegary dressing.
— Bruce Weinstein and Mark Scarbrough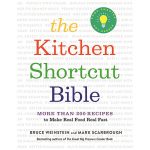 Excerpted from THE KITCHEN SHORTCUT BIBLE Copyright © 2018 by Bruce Weinstein and Mark Scarbrough. Used with permission of Little, Brown and Company, New York.  All rights reserved.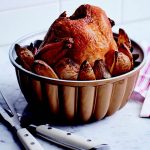 Position one oven rack as high as it can go while still accommodating the chicken atop a 10- to 12-cup Bundt pan. Heat the oven to 350°F. Cover the hole at the center of the Bundt pan with aluminum foil.

Mix 1 tablespoon of the oil, the mustard, thyme, 1/2 teaspoon of the salt, and the pepper in a large bowl until smooth.

Set the chicken in the Bundt pan, legs down, so that its large opening fits over the center of the pan and the chicken stands up in the pan. Rub the mustard mixture over the exterior of the bird.

Add the remaining 2 tablespoons oil and 1/2 teaspoon salt to that same large bowl, then add the shallots and potatoes. Toss well to coat.

Position the shallots and potatoes around the chicken, using the flutes of the pan to stand them up where possible. Set the entire Bundt pan operation on a large lipped baking sheet.

Roast until the potatoes are tender, the chicken is well browned, and an instant-read meat thermometer inserted into the thickest part of a thigh (without touching bone) registers 165°F, about 2 hours.

Let sit at room temperature for 10 minutes, then take the chicken off the top of the Bundt pan. Carve and serve with the potatoes and shallots, discarding any juices in the pan.
• For a silkier finish, substitute melted unsalted butter for the olive oil.
• Single-lobed shallots are sometimes called "French shallots."