I have always been a fan of textural differences within any recipe. Queso fundido, creamy molten cheese, often houses little morsels of sautéed peppers and onion with a wisp of heat from chiles. But this version folds in black beans and tomatoes for a deeper contrast not only of texture, but of color as well. The habanero breathes fire, and also perfumes the creamy concoction for one obsessive dip. Serve the dip warm and bubbly with Potato Tortillas or a heaping portion of Ultimate French Fries.
Excerpted from Smashed, Mashed, Boiled, and Baked – And Fried, Too! By Raghavan Iyer. Published by Workman Publishing Co., Inc. Copyright © 2016 Raghavan Iyer.
ON-DEMAND: Listen to Faith and Raghavan Iyer talk about his Ultimate French Fries recipe, as well as other recipes from Raghavan's book.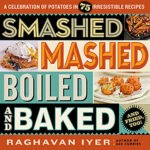 Heat the oil in a medium-size saucepan over medium-high heat. Once the oil appears to shimmer, add the onion and garlic and stir-fry until the edges are light brown and the raw smell dissipates, 3 to 5 minutes.

Stir in the cumin and salt. The heat of the pan's contents is just right to cook the spice without burning it, about 10 seconds. Add the black beans, cream cheese, and chile and cook, stirring occasionally, to soften the cheese, 3 to 5 minutes.

Stir in 1 cup water. The result will appear curdled and slightly unruly. The water will quickly come to a boil. Cook the queso, stirring occasionally, until the sauce appears smooth and curdle-free, 3 to 5 minutes.

Stir in the shredded cheese, cilantro, and tomato. As soon as the cheese melts, remove from the heat and serve.