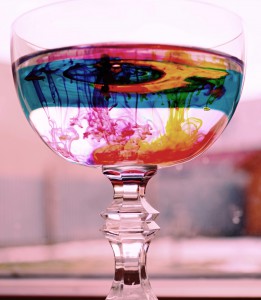 Our Alex Province stumbled on The Black Cat cocktail and discovered how easy it is to make your vodka an amusing black for Halloween, or if you're thinking of throwing a chic black and white cocktail party. Once you follow his directions, we thought it might be fun to add a drizzle of Sambucca or Ouzo to make a black licorice martini.

In a highball or Tom Collins glass, add vodka, kirsch, and cranberry juice, and stir.

Top with cola and garnish with maraschino cherries.
Add food coloring directly into bottle, cap bottle, and give a shake.

Add more drops until color is thoroughly saturated.
You can also use equal parts of blue, yellow, and red food coloring. Or McCormick's black food coloring.
Serving Recommendation: Use to make a vodka martini and rim glass with fake blood made of corn syrup and red food coloring.