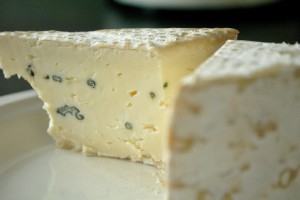 Trust us when we say that a little blue cheese butter on a steak or a burger will send your taste buds into an uproar of delight. While the meat is still warm, put a little on and watch it melt in. When we do this our guests always chortle, "This is good!"

Add butter to a mixer and whip on medium high until fluffy. Slowly add blue cheese, mustard, Worcestershire sauce, salt, and pepper and continue to mix another 2-3 minutes. Scrape down bowl as necessary.

Take a piece of plastic wrap approximately 12 inches long and scrape butter onto one end. Fold plastic over and begin forming into a log. Twist the edges closed and refrigerate for at least two hours.