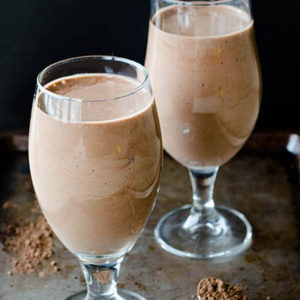 Faith and the gang came up with one rockin' chocolate bourbon milkshake during an episode of The Food Schmooze®. Just the right amount of Maker's Mark Bourbon and possibly the world's best chocolate ice cream from Arethusa Farm Dairy (now with a shop in New Haven!) made this a shake you'll want to serve at your next party as dessert.
Photo: cookingalamel/flickr, creative commons

Servings:
people (maybe more)
In a blender combine all the ingredients, except the toasted walnuts. Blend on high for a couple of minutes, then check the consistency. Too thick? Add a little more milk. Too thin? Add ice cream. Blend again.