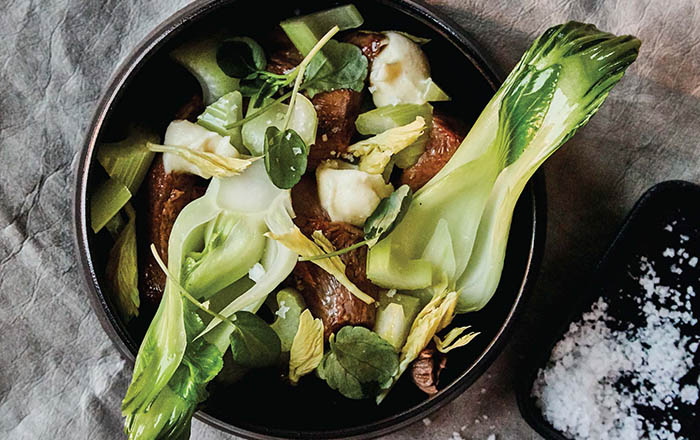 Don't let the long braising time in this recipe intimidate you. It's an easy "prepare it and forget about it" step and fills the house with an enticing aroma that will make your guests' mouths water. It's a perfect company's-coming meal because it's guaranteed to impress. If you have leftovers, prepare open-faced lamb sandwiches by stacking a crusty slice of toasted bread with lettuce, red onions, and shredded lamb and drizzling it with sweet-and-sour dill oil. The oil will keep in the refrigerator for up to 1 week, though it will lose a bit of its green luster over time.
— Gunnar Karl Gíslason and Jody Eddy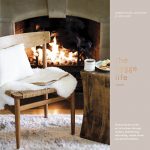 Reprinted with permission from The Hygge Life, copyright © 2017 by Gunnar Karl Gíslason and Jody Eddy. Published by Ten Speed Press, an imprint of Penguin Random House LLC. Photograph copyright © 2017 by Peter Frank Edwards.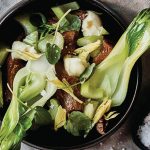 Preheat the oven to 400°F. Have ready a large plate.

Season the lamb shanks with salt.

In an ovenproof pot with a tight-fitting lid over high heat, warm 2 tablespoons of the canola oil. Sear the lamb shanks on both sides until golden brown, about 2 minutes per side, then transfer to the plate.

Add 1 tablespoon of the vinegar to the pot and, using a wooden spoon, scrape up the brown bits at the bottom. Turn the heat to medium, add the onion and garlic, and sauté until the onion is translucent. Add the beef stock and remaining vinegar and bring to a simmer.

Return the shanks to the pot and press down to submerge them. Cover the pot, transfer to the oven, and braise the shanks until the meat is falling from the bone, about 1 hour and 45 minutes.

In a blender, combine the remaining canola oil, dill, and sugar and puree until smooth. Strain through a cheesecloth-lined fine-mesh sieve and transfer to a squeeze bottle.

Remove the shanks from the pot and reserve the cooking liquid separately. Let the shanks cool, then return the cooking liquid to medium-high heat. Simmer, stirring occasionally, until the liquid is reduced to a thick, glossy sauce. Once the shanks are cool enough to handle, gently remove the meat from the bone.

Add the lamb meat and bok choy to the cooking liquid and stir until the bok choy is tender and the leaves are bright green, about 4 minutes. Season with salt. Spoon the lamb, bok choy, and sauce onto a serving platter and then drizzle with dill oil before serving.