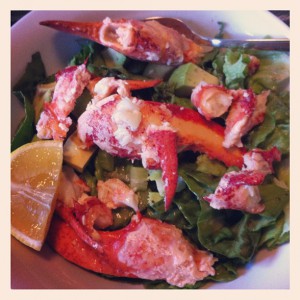 For some, it's sinful to mess with the traditional lobster roll, but we say if you eat enough lobster rolls, an outside-the-box version is pure pleasure. This one's for fans of spicy stuff since it's studded with jalapenos, garlic and olives, just the way they make lobster salad in Baja, California, on the Mexican coast. You don't have to serve this in a roll at all; if you prefer it on salad greens or as an appetizer course. Feel free to lessen or increase the heat, depending on your taste.

Combine the lobster, garlic, chile, peas, mayonnaise, olives, and carrots in a bowl and season to taste with slat and pepper.

Make a bed of lettuce on a serving platter, top with the lobster salad, and garnish with pimiento strips. Serve immediately.