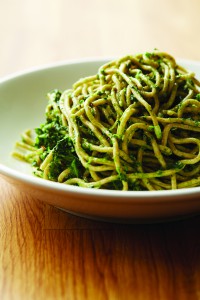 Not surprisingly, this recipe from the cookbook Downtown Italian caught my attention. It's the one the chef made at night at home, which explains why it's not wildly complicated, though it has some steps. I'm talking about Whole Wheat Spaghetti with Broccoli Rabe Pesto. The balance of slightly bitter broccoli rabe mixed with Parmesan, olives, garlic and almonds, is terrific. Wine expert Joe Campanale says this dish would go well with a crisp, flavorful white, like a Sauvignon Blanc. My personal favorite would be Livio Felluga Pinot Grigio, though it's over our normal $15 limit.

Preheat the oven to 350° F. Bring a large pot of water to a boil. Season the water generously with salt. Trim the bottom ends (1 inch) off the broccoli rabe. Blanch the broccoli rabe in the boiling water for 2 to 3 minutes, until it turns bright green and the stems are tender. Drain the broccoli rabe and spread it out on a cooking rack; let cool to room temperature, 15 to 20 minutes.

Meanwhile place the almonds on a baking sheet and roast in the oven until toasted and aromatic, about 7 minutes. Allow to cool for 5 to 10 minutes.

Roughly chop the broccoli rabe and measure 1 cup of the cooked vegetable. In a food processor, pulse the toasted almonds with the garlic until finely chopped. Add the cup of broccoli rabe, the olives, and parmesan. With the food processor running, slowly pour in the 1/4 cup olive oil (4 tablespoons). Scrape down the sides of the bowl with a rubber spatula. Continue processing for 30 seconds to 1 minute. The contents should look like a bright green paste. Taste and add a pinch of salt if necessary. If the broccoli rabe was blanched in sufficiently salty water, the mixture should not need any more salt.

To make the pasta, bring another pot of water to a boil. Season the water generously with salt. Add the pasta to the boiling water. Cook to desired doneness, 1 to 3 minutes if using fresh pasta. Reserve the pasta water.

Meanwhile, place 6 tablespoons of the pesto and the 2 remaining tablespoons of olive oil in a large bowl. Add the spaghetti to the pesto along with 1/4 cup of the pasta water. Toss to combine. If the pesto seems too stiff, add a little more pasta water. If you would like the noodles to be more heavily coated in pesto, add another tablespoon of pesto to the bowl. Distribute the pasta among warm serving bowls and serve immediately.